Hello, are you of legal drinking age?
Antwerp City Brewery uses cookies for an improved customer experience, to make the website function, to analyse your visit, to make dedicated offers and to make social media interactions possible. If you click on the agreement button, you accept that all cookies are activated.
Brewery De Koninck has been captured by De Mol until June 30, 2022
more information
Buy your tickets online
Tickets
More Info
The most enjoyable adventure in Antwerp
The most fun adventure of the City? A tour through our City Brewery! That is not only a must-see, but especially a must-do due to the countless interactive experiences. No, you do not have to follow a guide: you do this visit at your own pace. Moreover, before and during your visit we treat you to a perfectly tapped tasting. So put our tour on your bucket list, or better yet: come experience it immediately!
The visit
A keg full of experiences
Open everyday, except on mondays
Tuesdayto friday
Open from 1pm to 8.30pm
saturdayOpen from 11am to 11pm sunday
open from 11am to 2pm
What can you expect?
Audiovisual, interactive tour without guide.
At your own pace, duration about 1 hour.
2 Tasters are included, one before the tour and one during.
The tour is completely wheelchair accessible
Buy your tickets online right now and get a 2€ discount.

Cashless
We work cashless in our ticketshop, giftshop and bar. Tickets and other purchases are only possible by card.
Arrangements
Arrangements
Combine your interactive tour with a
'Meet the crafts' tasting
Choose from one of our crafts or learn about all three of them combined with the most delicious beers. A pleasant, tasty, but above all educational workshop given by our own beer sommelier!
Our Bar
Such an adventure obviously makes you thirsty! No problem: we treat you to a beer before and during the tour. Because experiencing beer means tasting too. If you want to enjoy some more, you can have another drink in our bar.
Free access, also without doing the tour
Open Tuesday to Saturday: from 11am to 11pm and Sunday: from 11am to 4pm
You can also rent our bars as an eventlocation
Brewery Shop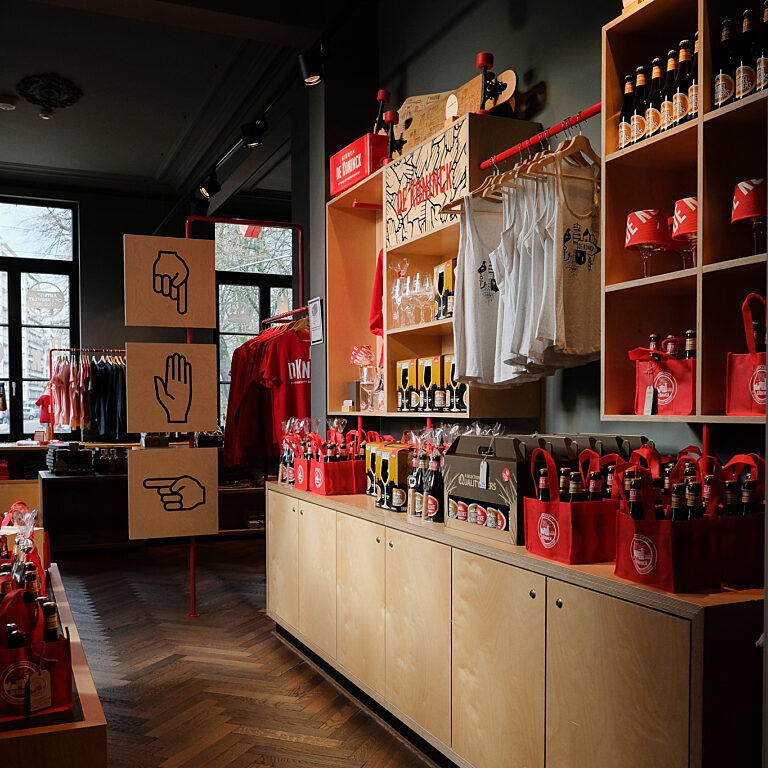 In our breweryshop you will find fun gadgets for yourself, or to give as a gift. Choose from our selection of beers, exclusive glassware, original openers, books, clothing,...
Open Tuesday to Saturday: between 11am and 8.30pm and Sunday: from 11am to 2pm
Frequently Asked Questions
FAQ
Is it mandatory to book the visit online?

Nothing is mandatory, everything is allowed. If you don't feel like booking online in advance or you prefer to come to the brewery out of the blue, that's no problem. You can always buy a ticket on the spot. Then you can immediately start your visit. Tip: Saturday afternoons are usually nice and busy. If you prefer to take it a bit easier, consult our opening hours above. It is mandatory to book the visit online when you come with 15 people or more. With the payment confirmation you can pick up your tickets at reception. Gift certificate or voucher? You can simply hand it in at the reception on the day of your visit without prior reservation.

How long does it take to do the brewery experience?

As long as you want. You will spend approximately one hour in the exhibition areas. And then you can enjoy a snack and a drink in our bar. To quench your thirst from all that adventure, but also to expertly taste all our beers.

What exactly does a brewery visit at De Koninck entail?

Our interactive brewery tour will fully immerse you in the world of our City Brewery. It will be educational, fascinating, but above all very amusing. In various themed rooms you will learn everything about Antwerp as a beer city, Belgian beers and the complete brewing process. Numerous interactive encounters and audiovisual effects provide a 360 ° total experience. Don't be alarmed if you suddenly find yourself in the middle of the action: you can feel the unique dynamics of our brewery on the four-meter-high bridge in the brewery hall. Such an adventure gets you get thirsty! No problem: we will treat you to a delicious beer before and during your visit.

Is there a guide during the brewery visit?

Thanks to the interactive and audiovisual effects, a guide is not necessary during the brewery tour. Do you speak French, English or German? No problem! Everything is always subtitled in 4 languages.

Is the brewery tour also accessible for people with a disability?

Of course! Everyone can enjoy our tour. We received an A + label from Tourism Flanders. The A + label means that our brewery meets strict accessibility standards and is accessible in a comfortable and independent manner.

In addition to the tour and the included tasting, can we also taste other beers?

Yes of course! In our bar you can taste our entire family of beers. Tripel d'Anvers, Wild Jo, Lost in Spice, Bolleke, ... But our extensive family of Duvel Moortgat beers are also available here. The more the merrier. Hungry? For a small price you can try the delicacies of our craftsmen at the brewery. Cheeses from Cheese Affiners Van Tricht, meat from Butcher's Store, nuts from Jitsk, ...

I would like to take a brewery tour in group. When and how should I make a reservation for this?

Are you coming to the brewery with more than 15 people? Please fill out the contact form below and include the desired date, time, number of people and type of tasting (with or without tour). Are you coming with less? Then you don't have to make a reservation and you can buy tickets at the box office. You can buy your tickets directly online here

Can I reserve a table in the bar?

Unfortunately, it is not possible to reserve a table in our bar. But don't worry, if there is no room in our bar, there is surely room at our neighbors. The City Brewery is home to many cozy bars or tasty restaurants.

Where can we park when we visit the brewery?

We have two paying car parks at the beginning of Boomgaardstraat (next to our brewery and opposite, next to Velodome). Are you coming with a coach? Then there is room for getting in and out at our loading and unloading area on Mechelsesteenweg. Tip: watch out for passing cyclists while getting out!

I would like to organize an event at the brewery, who should I contact for this?

Be sure to check out our page for corporate events and private parties. If you would like more information, please fill out the contact form below, stating the desired date, the number of people and an agenda with the course of the event. We will then make you an optional offer.

What are the payment options?

We work cashless in our ticket shop, bar and gift shop. Tickets and other purchases on the spot are only possible by card.

I want to cancel or move an existing reservation

Tickets are unfortunately non-refundable, but will remain valid for 1 year. As soon as you have found a new date, you may fill out the contact form below. We will then send you a confirmation by email that your reservation has been rescheduled.

I would like to book a group visit and pay by invoice (for companies only).

Would you like to make a reservation for a group visit with a company and pay by invoice? Please fill out the contact form below, stating the date, time, number of people and billing details. We will then schedule the visit for you manually and send you a confirmation by e-mail.

I made a reservation but did not receive a reservation confirmation.

You will receive an email from [email protected] after making a reservation. Did you not receive this e-mail? Please check your spam folder, the e-mail might have ended up there. Still haven't found it? Fill out the form below with the date and name you reserved for, and we will send you the reservation confirmation again.

I have a Bongo voucher or other voucher, how can I make a reservation?

Even if you are in possession of a discount coupon or voucher, it is best to reserve a time slot in advance. You choose the rate 'reservation without ticket' at €0, so you don't have to pay anything. On the day of your visit, bring the voucher to reception.

Other question about our brewery tour?

Please fill out the contact form below and we will get back to you as soon as possible.